Late Nights, Ex-Girlfriends, and Toronto – Drake Keeps the Safe, Winning Formula Together on "VIEWS"
Late Nights, Ex-Girlfriends, and Toronto – Drake Keeps the Safe, Winning Formula Together on "VIEWS"
People freaking LOVE to hate Drake.  It has become one of pop culture's favorite past times.  There is plenty to poke at – I get it.  The front-runner sports fan; the "started from the bottom" image that allegedly may not be the full story; all of it.  Some of the criticism is warranted, but not all of it.  Most of all, the knock on him for only making songs for women is the most puzzling.  Has you ever heard of a guy named LL Cool J?  Okay, just checking, because here we are two decades later, hailing LL as one of the best emcees to ever pick up a mic.  Making songs for women sells records – don't hate the player, hate the game.  Who knows what history will do to October's Very own, the 6 God, Toronto's own Aubrey "Drake" Graham.
The Boy already a legend #VIEWS

— FUTURE/FREEBANDZ (@1future) April 30, 2016

Future, featured on "Grammys," is a fan of Drake. I am a fan of Drake, too.
Drake has made a valiant effort to build on his monumental image in the game this week, with the release of his sixth album (fifth if you don't want to count What a Time to be Alive, or fourth/fifth depending on if you call What a Time and If You're Reading This, It's Too Late "mixtapes," or seventh if you call So Far Gone-you know what, he just has a confusing discography).  This newest album, VIEWS (previously named Views from the Six) has been marketed as Drake's open love letter to Toronto – the city that raised him.  And that "songs for women" negative connotation comes back around with this release's much heavier reliance on singing rather than rapping.
The hype behind this album has been the largest I have seen since Kendrick's To Pimp a Butterfly, and the jury is still out on whether it will live up to it.  VIEWS is good – some would say very good – but for an album release that us fans have been drooling over, it wasn't the perfect 10/10 we wanted.  To me, that's okay, because I don't expect Drake to ever drop a life-altering album.  His impact on the game has been in the form of a slow burn over the last 5-6 years, rather than a flash in the pan with an instant classic (I will reserve my Take Care = classic discussion for now.  That album just does things for me, man).
Everyone I have talked to or read about online seems to have a different complaint about the album.  Not enough "bangers" (sidenote: people who use this word in serious hip hop discussions are the WORST); too much singing; just rapping about women again; the first part of the album is better; the second part of the album is better; it's too long; the features are average; and on and on and on and on.  Whatever – form your own opinion.  When a name this large releases a project, there has to be some way to pick it apart and be critical of it.  Not sure how much merit some of these complaints really carry, but c'est la vie.
This 20-track adventure through Drake's city, in what sonically seems like a changing of the seasons, with the first track beginning in the dead of winter, and the smash hit "Hotline Bling" rounding us out at track 20 with the hot heat of July 4th weekend, VIEWS is Drake just as advertised – the braggadocio, then the vulnerability and sorrow, then back to the top of the world, all packed into one album.
No one is better than Drake at getting you to run to your balcony and shout out to the world that you are the man and you love your life, and then five minutes later you're on your ex's Instagram thinking "I'm just curious what they been up to."  And he does it not just within an album, but sometimes within one single song.  I'm serious.  Take cover before you throw on "Redemption."  Don't say I didn't warn you.  The variety of delivery is here on VIEWS as well – he does it with the choppy, one-line-at-a-time-then-big-pause flows followed right up by his melodies that have reinvented the entire genre.  Or, if you are the New York Times, just say that Drake has made his own genre – you wouldn't be that far off.
Bury your phone in the backyard before Redemption comes on

— Feitelberg (@FeitsBarstool) April 29, 2016
Drake seemed to make a conscious effort to move away from the If You're Reading This and What a Time to Be Alive rapping that dominated 2015.  VIEWS is peppered with crooning that is reminiscent of the So Far Gone mixtape days, however it is executed much smoother than in past releases.  I actually think Drake's singing has improved much more than his rapping throughout his reign on top, which is now coming into the second half of a decade.  He is trying new things with his voice, like on the back half of the track "U With Me?" where we actually get some shouting in his voice that typically doesn't come with Drake sing-alongs.
I thought it would take a lot for Drake to top the production in 2013's Nothing Was the Same, but VIEWS tops it, and then some.  The production on this project was a major highlight for me, obviously spearheaded by Drake's partner-in-crime, Noah "40" Shebib.  No one in the rap game is better at doing the most with less right now than 40.  40 is hypnotic with his hazy drum beats, filled in with his own piano skills, and topped off with a little reverb-sort of(?) that makes the music feel almost hollow.  Also, the way he uses samples drowned out in the background of a track makes you feel like it wasn't even part of the track, only to find you humming some old loop from a Brandy song from the 90s later on (remember her?).  40 is one of my favorites in the game, and there's only one voice I like laced over his tracks – Drake himself.
Drake and 40 from years back.
With a 20-track release, there unfortunately is a good chance that you end up with some missed tracks.  There are some that are forgettable, but the highs on the album make you forget tracks like "Child's Play."  After an underwhelming opening track, "Keep the Family Close," VIEWS hits a STRONG four-track run from "9" to "Weston Road Flows."  "Weston Road" would have to stand in as the theme song of this album, with 4+ minutes of Drake going bar after bar, telling us about where he's from, where he is now, and then he also is considerate enough to tell us when he plans on retiring in the future – doubt that will hold up.  It boasts Drake's songwriting* ability (f*** Meek Mill) and encapsulates what Drake was looking for in his Toronto-themed release.
Other than "Weston Road," though, there seems to be something lacking on the Toronto theme.  In a generally positive review of the album I guess I can lace in some critiques: (1) STOP taking 3-second breaks after every bar, dude.  Just flow.  Sounds way to choppy and frankly, not great. But on to (2) I was hoping for more Toronto.  This whole "6 God" mantra has taken form in the last couple years or so, and I wanted to hear exactly why Drake feels this way.  The subject matter was more of the same from Drake, and I wish he was a little more daring on the subject matter – give me more Toronto.
The radio smash hits off this album are going to all be coming out of the same group of tracks with a common theme.  We have already heard "Hotline Bling," and "One Dance" is starting to make waves, but "Controlla" and "Too Good" will not be far behind.  And they all take on this island vibe that one would NOT expect out of a winter-in-Ontario album.  It was like Drake spent some time writing in The 6 and took off for the Virgin Islands for a couple weeks to bang these tracks out.  And they WORK.  When Drake and Rihanna get together, it is always perfect for a dance floor, and "Too Good" doesn't fail at all.  Sidenote: since I've been the guy writing about 2016 album releases on this site, Rihanna's ANTI might be one of the best out at the moment.  Cop it.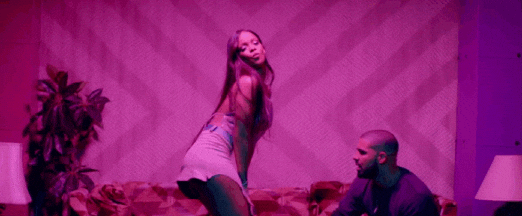 That's Rihanna. She's popular.
VIEWS sort of has its own lane, compared to other Drake releases.  It's not nearly as much rapping as Drake of 2015 (What a Time and If You're Reading This), and the song topics are not as petty as Take Care.  It is actually mature for Drake, with the exception of one "what are thoooose?" jokes and yet another unnecessary dig at Meek Mill on "Hype."  I'm not going to try and rank Drake releases, but you can if you want to.  All I know is that this is yet another eventually-platinum release from the king of the hip hop/pop crossover genre and once again, everyone else needs to play catch up.  Drake is by himself right now.  He actually released a song with Kanye West and Jay-Z last month, and then TOOK THEM OUT OF THE SONG before putting "Pop Style" on this album.  And guess what?  This version is better!  It's Drizzy's world and we are all just here passing by.
I leave you with this bit from Chris D'Elia, because it is spot on.  I have never felt bad for someone that has so much going for him like I do when I listen to Drake.  He is a bizarre dude, but it works.  Love the Drake (shout out to Seinfeld).  Always going to love the Drake, unapologetically.  VIEWS is one of the must-haves going into the summertime.  Go cop it somewhere that isn't Apple Music and get down.
[youtube https://www.youtube.com/watch?v=GAL_HP1yE_c]
FOLLOW THE OPEN FIELD